This year I've been undertaking a large personal project which has already been underway for a few months now. This "Improv." series essentially allows me to focus on one of my biggest interests and passions in music – creating live content. 
Throughout this year, there have been some mentors who have provided me with inspiration and assistance both on the project's journey and as an improvising musician:
1. Eugene Feygelson 
• Eugene was able to advise me on future steps to take with regards studying
• He gave me a few companies and venues that hosted improvisation performances and advice on how to contact them
2. David Dolan 
• After taking part in a conference keynote speech with him, I was inspired to look further into structured improvisation, as well as playing with others
• David taught me the ways in which rehearsals can benefit improvising partners, and how building working relationships and understanding is key even in this field
3. Benjamin Nid
• Benjamin ran my CoLab Soundpainting  Group, and was highly influential in teaching me how to lead a group even when the outcome is unknown/unplanned
• He had a passion for Soundpainting which I have tried to since impart within my interaction with others
• The Soundpainting signs I learnt and become fascinated by have been useful to me in experimenting with various levels of control during an improvisation
My primary aim was to create interactive music to understand the process of sharing music in a non-static way. This meant live performances with other artists that were geared towards crossing the formal boundary between listener and performer. Two of my favourite performances so far from the series were ones I did with Yanaelle Thiran, a dancer from Trinity Laban Conservatoire of Music and Dance. 
The Peckham Asylum is atmospheric and evocative; it is an abandoned church, marketed as an:
'Artist-led project and exhibition space in a former chapel, also available for private events. Asylum uses the chapel as a project and exhibition space, hires it out for events, weddings and funeral wakes and as a location for film and photography.'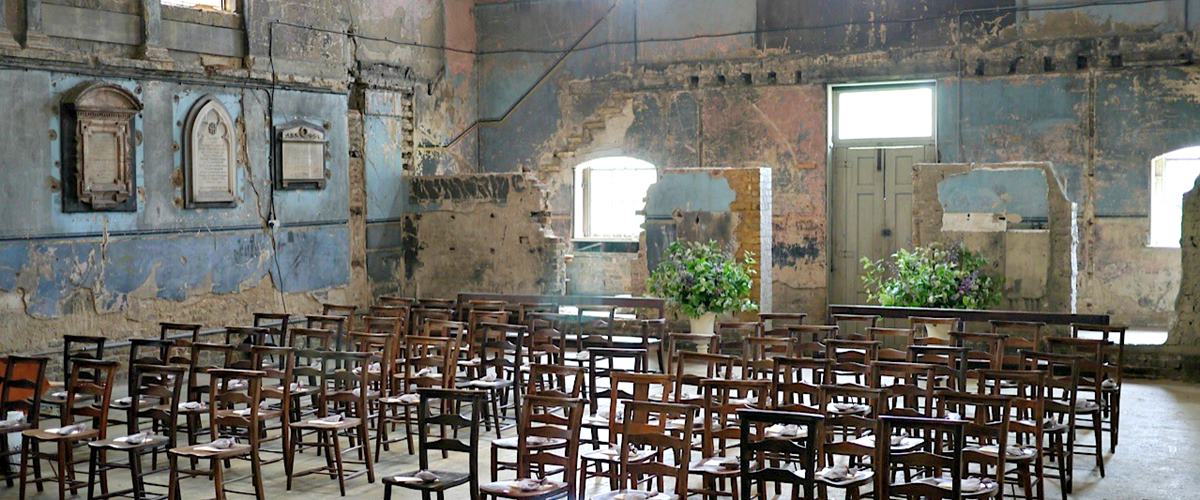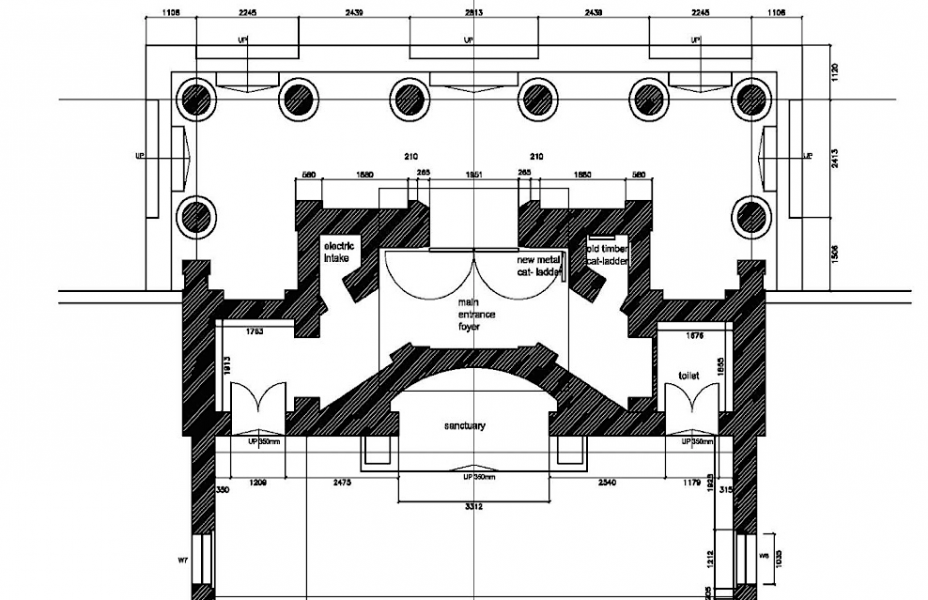 The venue was fantastic for the sense of space, and the unusual materials inside (there were candles on a small stone platform, the floor was made of dusty stone). I felt inspired by the church setting and saw the audience almost as a congregation – there was a real feeling of otherworldliness which I felt our performance could make the most of.
Here is a video of the performance we did at the Asylum:
Improvisation at the Asylum Chapel from Yanaëlle Thiran on Vimeo.
The other was at the Crossrail Roof Garden in Canary Wharf, which is an open garden space that is sectioned off by walkways and foliage. There is a small amphitheatre where performers can book slots. Yanaelle and I teamed up with the Goldcrest Company who were already putting on a performance of Messiaen's 'Quartet For the End of Time'. Here is an image of the Crossrail Roof Garden: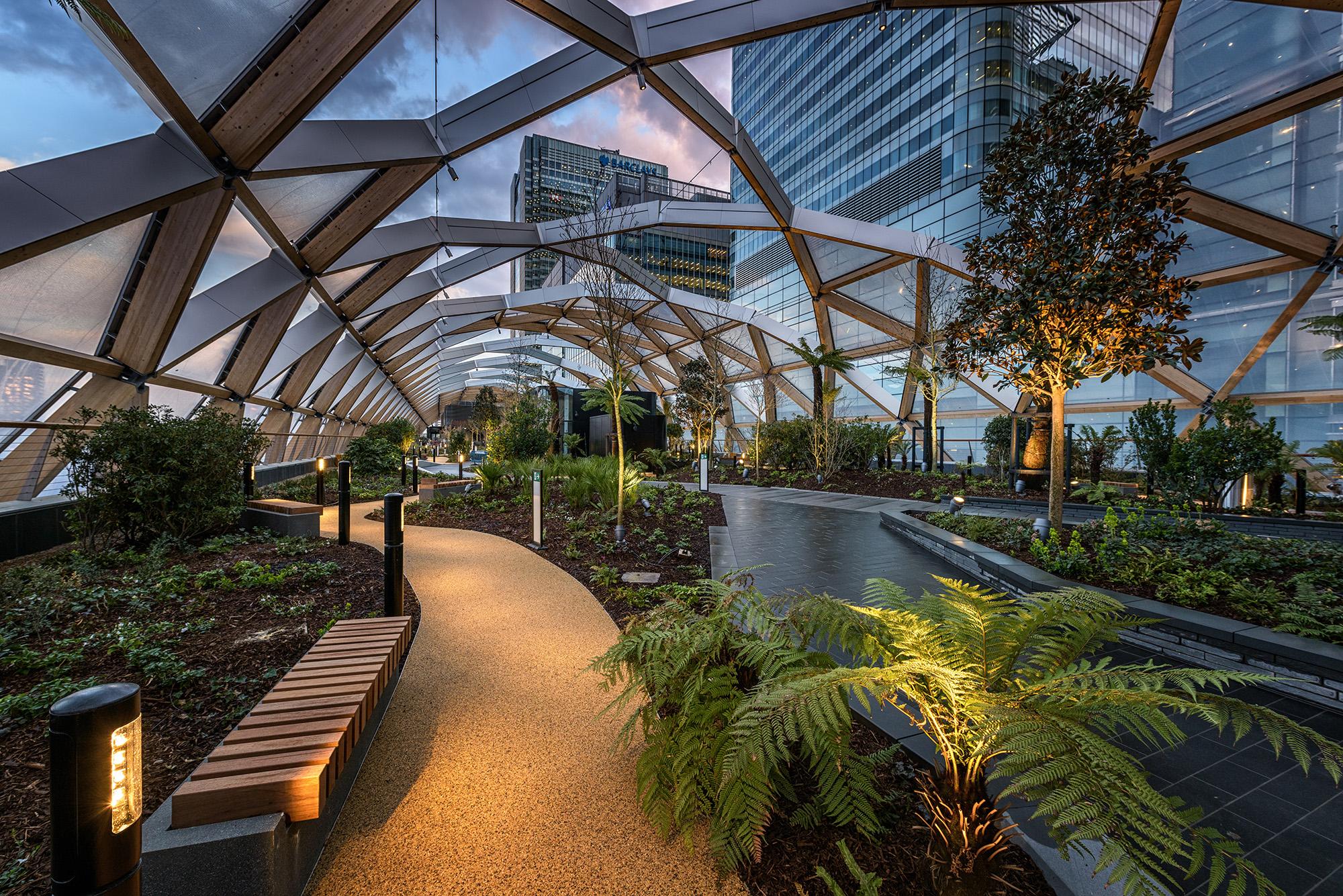 Our performance at the Crossrail Roof Garden was the perfect example of how location can really affect the content created; it was very cold, there was a lot of noise pollution, and the piano was facing the back of the stage (we weren't allowed to move it for health and safety purposes). 
Along with Joe Howson, who had put together the Goldcrest Company with whom we performed, I created a questionnaire to gather evidence of success/failure and any comments or criticisms with questions such as:
• Did you feel as though the improvisation was connected to the main performance? Please circle a number on the scale, 1 being not very much and 5 being very much so.
• The improvisation was a real-time reaction to the audience/venue – please describe whether or not you felt this, and in what way.
• Could you tell if you were watching the improvised performance or the notated piece – was there a distinct difference?
The audience feedback reflected the less than ideal circumstances at the Crossrail performance, although 72% of respondents stayed the whole hour. This was interesting as many respondents said that they had come across the performance by chance;
Yanaelle and I wanted to feel as though we were collaborating with as many aspects of the space/audience/extenuating circumstances as possible. This was one of my original aims, and perhaps in the future we should make more of this – one person stated:
'I think the sound would have been better indoors. Some parts the music was drowned out by cars, people talking, etc.'
In hindsight, I could have created a humorous moment by showing frustration at being stuck in the corner, drowned out by other sounds. 
I found that people who had experienced more experimental art forms were more likely to enjoy the less conventional setting. Let's have a look at the difference in response from Person A and Person B:
Interviewer: 'Have you ever seen/heard a free improvisation like this before?'
Person A: 'Yes'
Interviewer: 'Does the performance suit the venue? Would you have preferred to watch this performance in a more traditional setting?'
Person A: 'It suits the venue 'cause I was also interested in the external sounds.'
Interviewer: 'Have you ever seen/heard a free improvisation like this before?'
Person B: 'I have never witnessed a dancer/musician improv. collab before.'
Interviewer: 'Does the performance suit the venue? Would you have preferred to watch this performance in a more traditional setting?'
Person B: 'The immediate venue greatly contributed for me, though the general area I found a little distracting'
Perhaps this disparity affects enjoyment, and therefore more exposure to experimental art forms could allow more inexperienced audiences to see external influence as a part of the performance, not a hindrance. I also think that, as mentioned before, having clear reactions and connections to location would be beneficial in helping the audience feel as though everything is related. Overall, there was agreement that the music and dance were related to one another and relevant:
The main impression that the questionnaire gave me was that we could have made more use of the space. One commenter wrote: 'I felt the venue's unique characteristics could have been put to better use at times'. This is an aspect of the project that needs more work – I originally set out to have the location be a key part of my project and in upcoming rehearsals and performances I will set out to make this a more prominent aspect.
Ultimately, however, I feel as though the series has been a success so far, with comments such as 'I LOVED the first performance. All of the pieces were amazing and exhilarating!' The most important aspect for me also seemed to be successful, based on audience feedback; this was whether the improvisation added anything to the main event. This is one of the driving forces behind my project series – the relationship each improvisation has with other performances and its intention to interact. The following pie chart shows how even an audience that stumbled upon the amphitheatre was able to clearly follow the relationship between two artistically complex performances:
Future plans include working further with the Goldcrest Company and Yanaelle and making improvements on the criticisms that were given in the questionnaires.